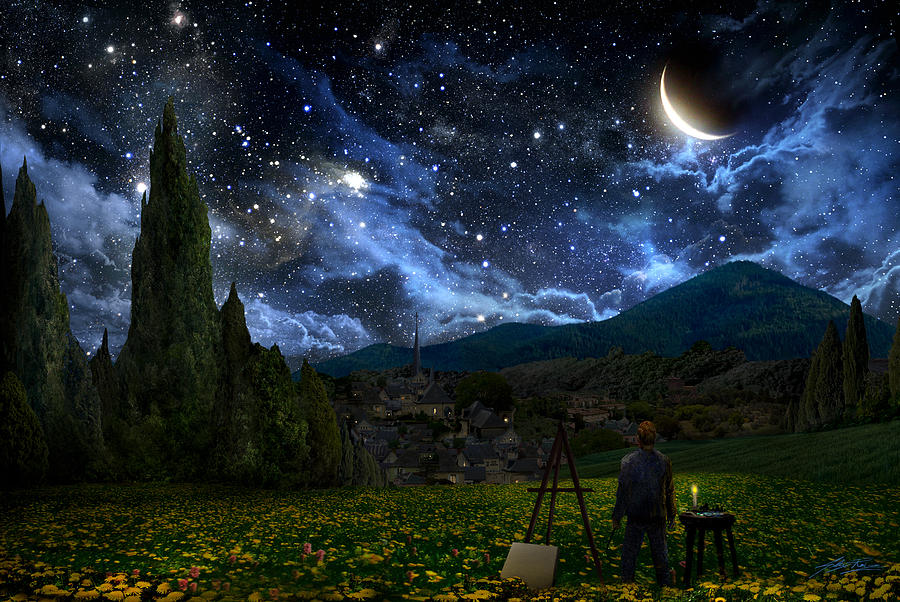 I dream my painting; then I paint my dream.
Vincent van Gogh, who wrote and lived these words, is one of my favorite painters. He had a way of actually painting the air, of painting the energy and life of God's creation rather than just painting a wheat field or a night sky. Whenever I'm privileged to be in a museum that is displaying his paintings, I spend long moments leaning in and backing up and marveling at the way van Gogh so intentionally caked on thick swirls of brilliant color. He was not tentative in his art—when van Gogh painted something, he meant it!
This idea of dreaming the painting, and then painting the dream is somewhat like what the church is about. Each week we act out our worship in symbols, attempting in scripture and song and sacrament to move from shadow into the light of the Living God—we dream the painting.
But as we dream the painting together, a strange thing begins to happen: we actually begin to paint the dream. In worshipping this God, his marred likeness begins to be restored in us. Then we go out and live it, showing the world the energy and life of God. Like the caked on, swirling paint of van Gogh, we begin to show the un-showable. Who thought they would
ever see the air? Yet there it is, right there on van Gogh's canvas. And who thought they would ever see God? Yet there he is, right there in your life of mercy and love.
Advent and Christmas are examples of dreaming and painting. Advent is the time when we are dreaming—watching, waiting, hoping. And early on Christmas morning we see that Savior, that King of heaven and earth the world dreamed of for so many generations, being born "unto us" in flesh and bone and laid in a feeding trough, the bread of heaven served up for the world...just as the angels proclaimed to the shepherds on a dreamlike
Starry Night
. The people who walked in darkness begin to see a great light. The Sun of Righteousness begins to rise with healing in his wings. And the dreamers who dreamed with God begin to paint the dream.