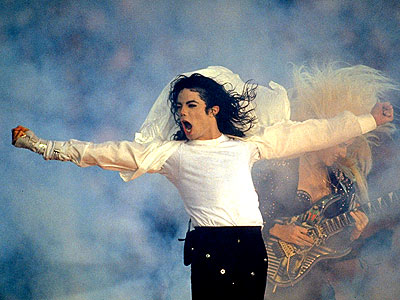 (Disclaimer: I'm a lifelong fan of Michael Jackson's entertainment--from J5 as a kid in the 70s on up. See
this post
. But I'm also a pastor who "conducts" funerals and memorial services, which I believe are to be acts of worship of the Triune God. And I'm always considering the questions below. So, please indulge me with a little grace here.)
It was interesting to watch the memorial service for Michael Jackson yesterday. It was mostly a beautiful celebration of a sometimes beautiful, oftentimes odd life. One of the things that stood out most to me was a sort of back-and-forth between messiahs: Jesus and MJ.
There was
Mariah Carey
singing her rendition of "I'll Be There," yet almost putting the words in God's mouth, even singing a "thank you, Jesus" at the end. You had
Lionel Richie
just coming right out with the song "Jesus is Love"—and he tore it up! And, of course,
Stevie Wonder
was in another world with his "Never Dreamed You'd Leave in Summer," but especially his powerful dirge "They Won't Go When I Go," which had the entire Staples Center hypnotized.
And there were other moments throughout the service, with gospel choirs and preachers and mourners pointing to Jesus as the true source of comfort and hope.
But behind it all—songs and sermons and soliloquies—were images of the dearly-departed, often in cruciform pose. There were words of the special burden Michael had, to be such a pure man-child in such a fallen world. And, of course, there were the songs—ending on an appropriate note with
"We Are the World" and "Heal the World."
The whole thing was beautiful, albeit confused and unusual—like the one memorialized.
Not wishing to trample the man's grave, but I don't think it's a stretch to think that MJ may have carried a bit of a messiah complex (as well as Peter Pan/arrested development issues), which was only enabled by his entourage and many of his fans.
But it all brings up the interesting question of the role and activity of Christ in culture (about which
H. Richard Niebuhr had much to say
). Is it beautiful to sing "we are the ones who make a brighter day, so let's start giving," or is it idolatrous? Is it right to tell people to "heal the world, make it a better place, for you and for me and the entire human race," or is it deluded? And if it's wrong, are there levels of "wrong-ness"—i.e. are such songs at least better than the death and lust and destruction sung about by so many others, or is it all idolatry and sin? In the end, is there room for
both
the King of Pop
and
the King of kings?
Technorati Tags:
michael jackson
christianity
pop culture